Since when did NBA fans become so spoiled? All I see online is people kvetching about another "boring" finals rematch between the Golden State Warriors and the Cleveland Cavaliers and how Kevin Durant has ruined the NBA. Said people are dumb.
First off, this is the best option we had. The Celtics are fun, but they would have gotten romped by either Western Conference team. Considering that the Rockets took the Warriors to seven games and the Cavs barely scraped by a young team without its best player, I think it's safe to say that a Rockets-Cavs series would have been just as lopsided as a Warriors-Cavs series, only with more flopping and uncalled travels. If the Rockets and Cavs switched conferences and we had a Warriors-Rockets finals after two boring conference finals sweeps, I'm not sure that would have been any better.
Is 2018 Warriors-Cavs the most intriguing finals matchup of our lifetimes? Of course not. I'd struggle to write script in which the Cavs win the Finals that doesn't involve Doctor Strange giving LeBron James the time stone. Heck, it probably won't even be as tight as last year, when the Cavs were actually pretty close to a Game 3 win that would have at least forced a Game 6 in Cleveland. In the past two finals, the Cavaliers were outscored by 14 points per 100 possessions in the 67 minutes when LeBron was on the court without Kyrie Irving; whoops, no Kyrie this year!
It is a historic series, however. It's the first time in any major sport that two teams have played in the championship four years in a row, the first time in NBA history that both conference finals were won by the road team in Game 7 (both double-digit comebacks, no less), and the first time that a team has made the Finals after a player threw soup at a coach earlier in the season. That's a lot of firsts. Anyone calling the matchup "inevitable" clearly didn't watch the same game Monday night that I did — the Rockets making 11 of 44 threes instead of 7 of 44 might have earned them the W.
This is also going to be a ludicrously entertaining series. We have three former MVPs in their primes (J.R. Smith, Javale McGee, and Swaggy P); the only time that's happened in the past 25 seasons was, well, last season. One of those former MVPs has averaged nearly a 30-point triple-double over the past three finals and is in the middle of the greatest individual postseason run of the 2000s while his 2003 Draft contemporaries are either falling apart (Carmelo Anthony), on his own supporting cast (Kyle Korver), bench-warming for the opposing team (Zaza Pachulia, David West), on the Cavs' bench looking like a nightclub bouncer who just woke up from a power nap (Kendrick Perkins), just retired (Nick Collison), long retired (T.J. Ford, Josh Howard, Chris Kaman), or coached against him in the Finals two years ago (Luke Walton). Complain all you want that LeBron's team sucks, but Game 7 of the Eastern Conference Finals was the highest rated game in ESPN history and the 2015 Finals was the highest rated in ABC history. There's something compelling about watching LeBron play with four teammates who would probably make themselves most useful on the court by carrying around water bottles to squirt into LeBron's mouth as he runs back on defense.
But if LeBron's heroics aren't enough to get you excited, we've got ABC announcers Mike Breen and Jeff Van Gundy, who could probably make chess watchable if they called it. Here's how that would play out, by the way:
Van Gundy: "So a knight is just allowed to take three steps, but a pawn only gets one or two, simply because it starts the game in a different position? I've never understood that logic — that we just don't call traveling on certain pieces. That's never made sense to me."
Breen: "That's part of the game, Jeff. Different pieces have different abilities."
Van Gundy: "Oh stop it, Mike! I'm sick of you defending the league when it comes to the way the game is refereed. We're paying the commissioner some 20 million dollars… as Curry moves his bishop to e5…  and these are the rules that he's put in place? To just allow knights to hop around wherever they want? If this were basketball, people would be up in arms about this."
Breen: "Jeff, your commitment to deriding the officiating of every game we call is truly something to behold."
We'll also have J.R. Smith putting up three-pointers like he's never missed one in his life, Klay Thompson's perfect shooting form to admire, and the interesting storyline surrounding Finals MVP. (Will Curry get his first, will Durant get his second, will LeBron win it if he averages 40 in a losing effort?)
But really, we've had such a thrilling postseason up until this point that we ought to be satisfied. The first round gave us Ricky Rubio's Qui Gon Jinn haircut, Giannis Antetokounmpo reenacting a scene from Space Jam, Marcin Gortat dunking and then having no idea what to do with his body, LaMarcus Aldridge running up and down the court like Captain Jack Sparrow, Steven Adams being completely unfazed by an elbow to the face but terrified of a Carmelo Anthony perimeter jumper, Mitt Romney trash talking Russell Westbrook, and Paul George, just a few years removed from going toe-to-toe with LeBron in the Eastern Conference Finals, getting repeatedly cooked by Joe Ingles (a.k.a. Toby from The Office).
The second round gave us one of the funniest photos that the internet has ever produced, Celtics' coach Brad Stevens going from great coach to Hall of Fame coach to deity because of a few out-of-bounds plays, Donovan Mitchell joining Dwyane Wade as the only rookies since 1990 to average at least 18 points, 4 rebounds, and 4 assists in the postseason and advance to the second round, and the Raptors' Dwane Casey becoming the 13th head coach who's been fired within two seasons after losing to LeBron in the playoffs (this is a very real stat).
The conference finals gave us TNT announcer Marv Albert inexplicably thinking that James Harden lost a contact lens on a dunk because Harden did the exact same fake nose bleed celebration that he's done on literally every dunk this entire season, this dude (who has Christmas ornaments hung up around his house in mid-May) going on a splendid YouTube tirade about a J.R. Smith performance, the Celtics and Aron Baynes reenacting a scene from Forrest Gump, Baynes finishing off a postseason in which he shot 48% on threes (which is basically the equivalent of a grizzly bear learning how to play the saxophone in six weeks), and LeBron James making this shot: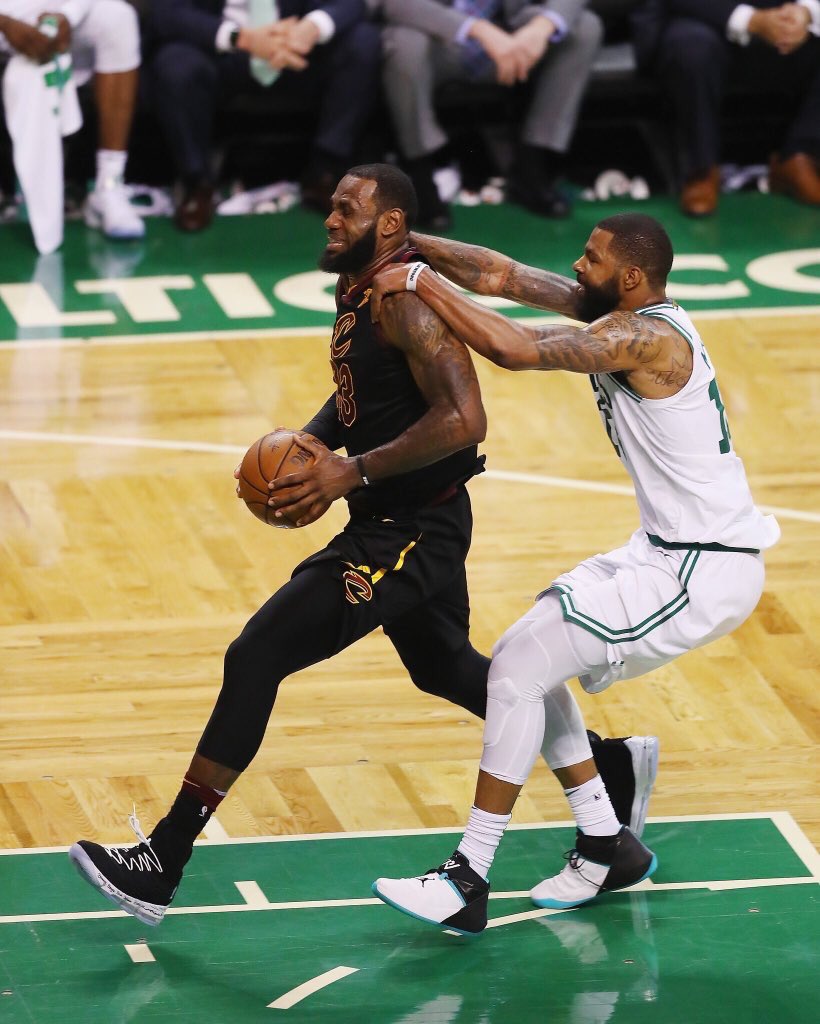 Finally, we're not entitled to a seven-game, evenly-matched NBA Finals every June, nor are we going to get one. Of the past 19 NBA Finals, nine of them (nearly half) lasted five games or fewer. When the NBA gives us a gem like 2016 that goes the distance and features a game winner in the final 60 seconds of Game 7, it gives us a few duds to balance things out and make Thanos happy.
So why don't we all just sit back, relax, and soak in the second greatest basketball player of all-time trying to put up 50 points a game against a potential dynasty in the making? That's more than good enough for me.
If you're still bemoaning the Warriors-Cavs matchup for whatever reason, here is a video of Mike Breen announcing fireworks. Cheer up, and enjoy the game tonight.